The inserts shown on this page were made for my Indiana Jones Diary replica.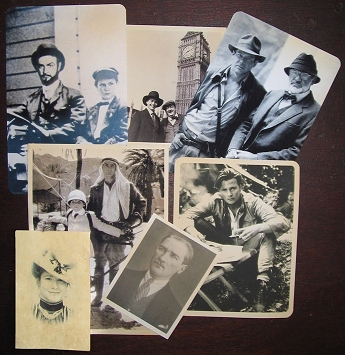 This collection of inserts spans forty years of history from around the globe, many of them based on actual historical documents.

To the left is a set of six replica photographs printed on high-quality matte photo paper:

1908- Young Indy & Lawrence of Arabia
1911- Junior & Henry, Sr.
1916- Indy & Remy
1917- Indy "Captain Defense" in WWI
1918- Mustafa Ataturk (whom Indy must locate)
1938- Indy & Dad

These photos were aged based on their relative ages (note the 1938 photo is lightly aged while the 1908 photo is more browned).

Also shown here is a double-sided memorial card for Anna Jones, Indy's mother, based on vintage pieces.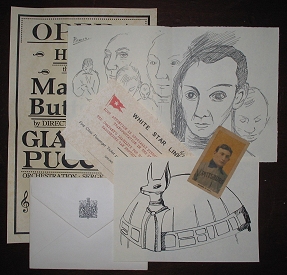 This collection of inserts are from the earlier parts of Indy's life, some of them based directly on props from the Young Indiana Jones Chronicles:

Playbill for Madame Butterfly
Sketch by Pablo Picasso
Royal Envelope
Sketch of the Jackal of Kha

These two replicas are based on actual historic pieces:

Honus Wagner baseball card
First Class ticket on Titanic






These two inserts show the chaotic times of the First World War. The larger one is a replica of the Irish Declaration handed out on Easter Monday. Indy is handed one of these in the Dublin 1916 episode.

The smaller one is a Bolshevik leaflet from the uprising of 1917. Indy worked at the U.S. Embassy in Petrograd during this failed revolt. One of his jobs was to analyze the political situation so he attended several rallies.
Both of these revolutionary documents are carefully replicated from actual historic pieces.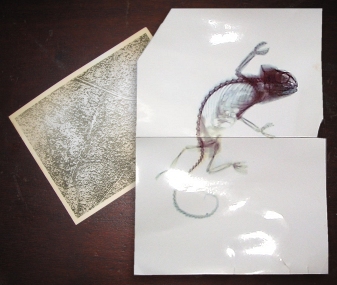 Shown here is a replica of the prop x-ray used in the Africa episode. It folds up perfectly as an insert into Indy's diary.

Beside it is a WWI photograph of enemy territory, copied directly from a prop used in the television series.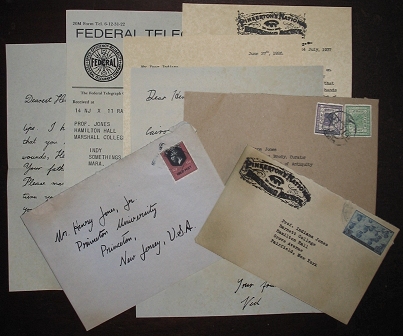 To the right are five letters from friends of Indy's, two of which are based directly on actual props. Three come complete with aged, postmarked envelopes, two of them also carefully copied from original props.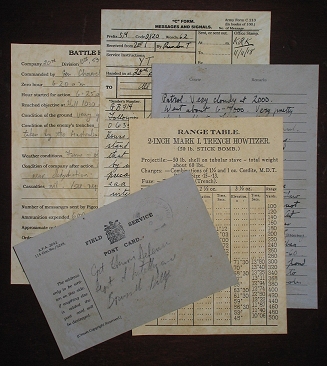 These five inserts are copied from actual documents from the First World War:

Range Table for firing the Mark I Trench Howitzer
Field Post Card (from Remy to Indy)
Battle History Report (describing the Battle of Beersheba)
Field Message (announcing the end of the War)
Pilot log sheet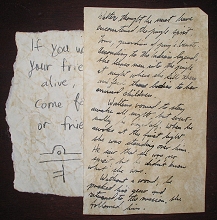 These two inserts are from Indiana Jones and the Seven Veils:

This poorly written threat was sent by an unknown villain, given to Indy by Marcus Brody, with the Eye of Bel and the Celtic ogham letter "D".

Also given to Indy by Marcus, this page is from the journal of Colonel Fawcett, a real-life explorer lost in the Amazon whom Indy is sent to find.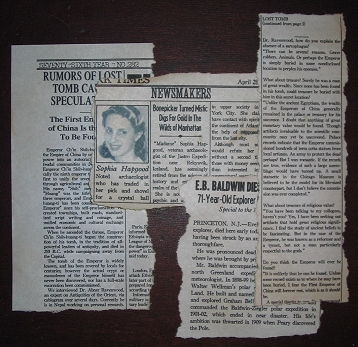 These four news article are tied into three of Indy's archaeological adventures:

One article tells of the death of an old explorer who had approached Indy to join him on an arctic adventure.

A two-part article tells of the "Emperor's Tomb" and has a brief interview with Abner Ravenwood.

The fourth article shows Sophia Hapgood, who joins Indy on a quest for the lost island of Atlantis.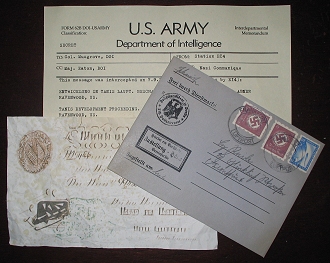 To the right are two inserts from Raiders of the Lost Ark:

An official U.S. Army memorandum regarding an intercepted German communique that mentions Abner Ravenwood and the Headpiece to the Staff of Ra.

An Arabic banknote, replicated from an actual Raiders prop.

Also shown is a German Polic envelope, complete with authentic stamps and postmarks, that Indy found slipped under his door in "The Emperor's Tomb".