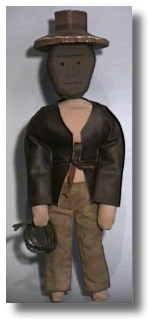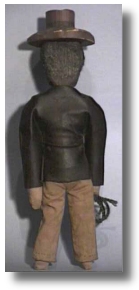 This is one of the most unique prop replicas I have made. The Thuggee knew just how to get to Indy... using black magic, and this voodoo doll. Featured in Indiana Jones and the Temple of Doom, the original prop was sold by Planet Hollywood for a very high price.

This little guy measures 15" tall and was closely modeled after the original piece. The head and hat were both carved from wood, painted and aged all by hand. The body is cotton, stuffed with polyfill and wears a dark-aged pair of pants. The jacket is made of high quality topgrain pigskin leather! In his right hand is a coiled leather "bullwhip".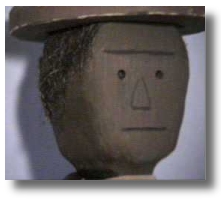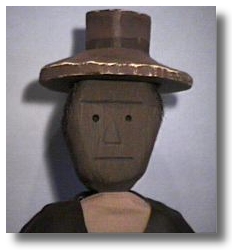 The head was made of two separate pieces of hand-carved wood. All the features on the face were carved and painted. The piece of wood making the head continues into the body, securing the two parts together. On the sides and back of the head is REAL human hair.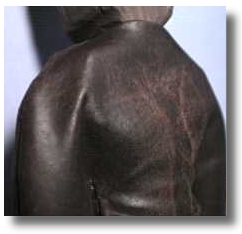 The aged jacket is made of topgrain pigskin and is removable. It is tied at the waist by a piece of leather just like the original prop, but is removable.


In the right hand a coiled leather "bullwhip" is stiched into place. The entire replica was aged to match the dirty appearance of the original prop.