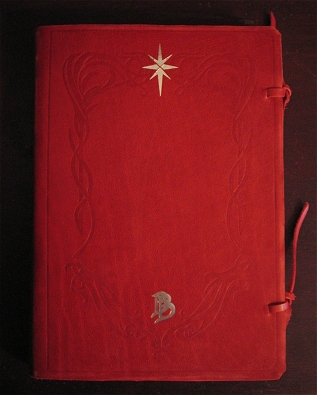 According to J.R.R. Tolkien's lore, the entire tale of The Hobbit and The Lord of the Rings was translated from a collection of journals entitled the Red Book of Westmarch. Originally written by Bilbo Baggins and expanded by his nephew Frodo, the Red Book then passed into the hands of Samwise Gamgee who finally entrusted it to his eldest daughter Eleanor. It was visited by the other peoples of Middle Earth who contributed to its appendix.

Replicated here as the original volume begun by Bilbo and continued by Frodo, this leather bound book is divided into several sections: The Hobbit (or There And Back Again) is written in Bilbo's own hand, who continues with some notes from the Libraries of Rivendell. The Lord of the Rings tells of Frodo's adventures of inheriting and destroying the One Ring of Sauron. Frodo then passes the book onto his friend, Sam Gamgee, who in turn records several poems he heard or composed during his lifetime. Finally, the appendix to this volume contains poems and histories from the Men of Gondor, Rohan, the Elves and Dwarves of Middle Earth.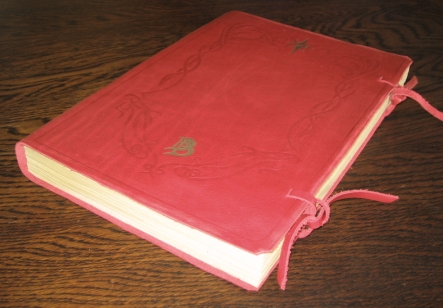 Measuring about 8 1/2" x 12" (22 x 30cm), this prop replica is bound in genuine red cowhide, embossed with elvish designs and silver foiled with a star and Bilbo's "BB" monogram. The pages are high-quality textured writing paper, laser printed and finally aged by hand giving them a time-worn appearance. The book is complete with matching leather ties, just like the original prop from The Lord of the Rings.