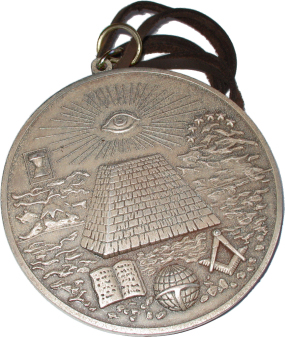 Shown in several scenes in National Treasure, this large medallion represents one of the links to the past between the Freemasons, Knights Templar and Founding Fathers of the United States.
Copied carefully from the original prop, this coin is die-struck, not cast, to ensure the highest possible detail. Measuring a large 3.5" in diameter, the front of the medallion shows an unfinished pyramid with thirteen steps along with other Masonic symbols.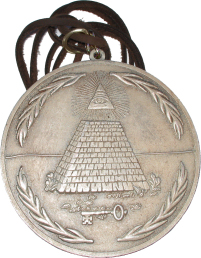 The back side of the coin, which is never actually seen on film, was based on two props seen in the documentaries on the special addition DVDs as well as the drawing of the medallion shown in the Gates family scrapbook. Closely based on the US Seal, this side has laurels surrounding the all-seeing eye with thirteen leaves each surrounding a Masonic key.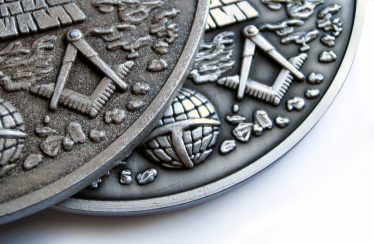 The medallion was first given a silver antiquing (the coin on the right) and then aged using several techniques including enamel and acrylic paint to give it a truely ancient appearance.