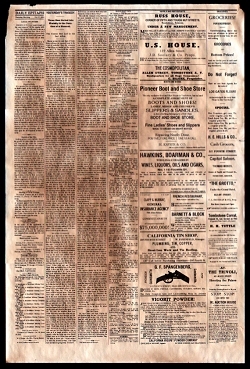 On October 26, 1881 in the quickly booming town of Tombstone in the Arizona Territory, there occured what is probably the best know gunfight in history:
The Gunfight at the O.K. Corral.

"Three Men Hurled into Eternity in the Duration of a Moment."

This is an authentic looking replica of the page from the Tombstone Epitaph featuring the O.K. Corral article, written the same day of the fight, and released the following day. This sheet was specially aged to look like it has survived these last 120 years... but just barely. The entire sheet is ledgable, measuring about sixteen by eleven inches.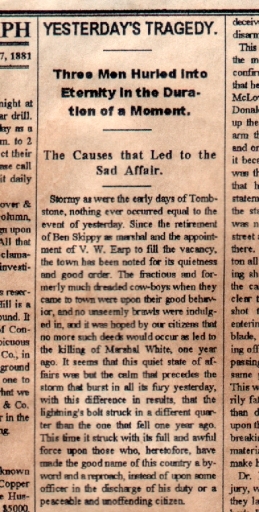 Although closer to Fly's Photography Studio than to the corral, this battle was given its name from an Eastern newspaper, making it an overnight legend! Read the first article written about this historic event for yourself. Written by John Clum, close friend to Wyatt Earp, this article staunchly defends the Earp brothers and Doc Holliday.

Not only can you read all about the shootout, which ironically only takes up two columns of the text-full sheet, but you can also enjoy the numerous advertisements from Old West. Each column, each letter and each line has been carefully reproduced from the original.

Shown below is an aged replica of a letter written by Wyatt's brother, Virgil Earp, to the Mayor and Council of Tombstone requesting that the police force be reduced from six to two officers. This letter was written only weeks before the shoot-out, the event which cost Virgil his job as city marshal.









These two pieces of Western history look great together or seperately in a frame, or tacked to an old piece of wood. Either way, these make beautiful decorations and conversation pieces for the collector of history or lover of the Old West.