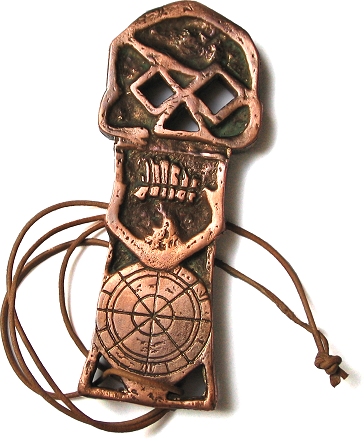 Although Chester Copperpot found this "key" to One Eyed Willy's treasure, he didn't make it as far as the intrepid group of youngsters knows as The Goonies.

This exact replica of the "Copper Bones" is cast in a heavy metal alloy, copper plated, chemically treated and finally aged with several acrylic washes. Wrapped around the bottom is a long leather cord, just like the original prop.

Unlike resin copies, this high-quality reproduction looks and feels like a genuine artifact, weighing over one pound!

The Goonies also found Copperpot's wallet among his belongings. Shown below, this replica contains his driver's license and Lou Gehrig baseball card as shown in the film, but also contains an Astoria library card and three pieces of reproduction money from the time period. Everything, including the genuine leather wallet, is heavily aged to look like it has been lost underground for fifty years.