Below are a few pieces that I am currently working on. Feel free to e-mail me with any specific questions about these items.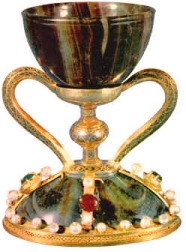 The Chalice of Valencia
This most famous relic of Christendom is the most likely contender to the title "Holy Grail".

My replica will be a 1:1 scale copy with genuine agate bowls making up the top and bottom portions of the chalice. The metal work will be cast metal and gold plated. The bottom will be rimmed with genuine fresh-water pearls. I'm not sure what I will use to simulate the ruby and emeralds, but it will be a suitable crystal or agate. I want to avoid the use of any resin on this reproduction.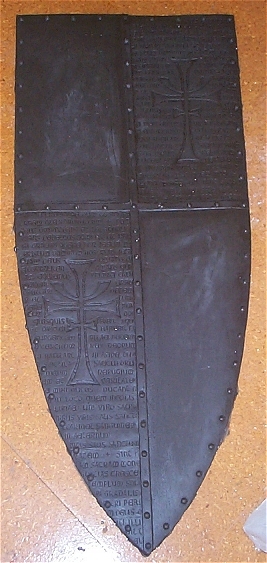 Grail Knight Shield
I'm also working on a full scale replica of Sir Richard's Shield which will have the complete text of the tablet as seen on the tablet rubbing. To the right is a picture of the wax master, which needs to be cleaned up, bent to the right shape, then moulded. From that mould, I'll make a fibreglass casting of the final shield which will be painted like this: