After a group of pirates plunder a cursed horde of Aztec coins, they are forced to wander the seas in search of every last one to remove the curse.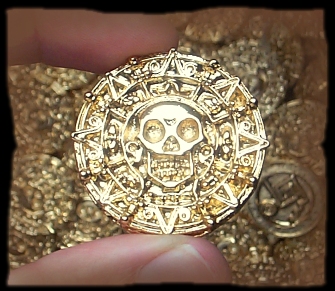 These coins are cast in metal, copied directly from an original prop, and gold plated to give them the feel and look of a real gold coin. On the front side of the coin is a skull surrounded by an Aztec calender design, while the back shows two pictorgraphs.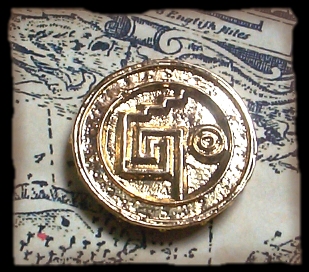 Below is the same coin with an acrylic inlay, giving it a more aged and dusty appearance. I've also added a splatter of paint to simulate the blood used to remove the curse. Further below is the coin with an alternate, dark-brown inlay.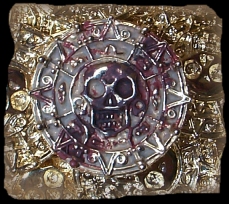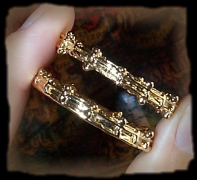 Although according to the film, all 882 Aztec coins were identical, two versions were shown in the film. One had the pictograph backing as shown above, while another version showed the same skull design on both sides. This alternate version (shown on the top of the picture to the right) has the same overall thickness.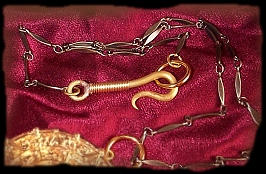 A ring can be put through the top of the coin, making it a pendant, just like in the film. The chain is the same "bone and ring" style as in the film, with an antique brass finish. The chain to the right has a custom bronze clasp while the bottom chain shows a smaller, more comfortable alternate.